Outcome Based Education in Nonformal Education 5.0 Society Era
Keywords:
Institutional, independent village,, regeneration, Village Owned Enterprises
Synopsis
Village-Owned Enterprises (BUM Desa) are Village business institutions managed by the community and the Village Government and are legal entities. The existence of BUM Desa is to strengthen the economy of the Village community and is formed based on the needs and potential of the Village. The problem in this research is the management of financial accountability and the attitude of the implementers, as well as reports on the implementation of BUM Desa. In fact, it is hoped that the existence of BUM Desa will trigger economic growth and be able to encourage the wheels of economic life as well as drive the economy of the Village community. In the management of Village Owned Enterprises, it is not only the BUM Desa administrators who have to struggle to improve the quality of their business units, but support from the Government, both the Village Government and the Regency Government, is needed to be able to help from planning to marketing the products managed by the BUM Desa. The purpose of the study is to examine and explain the management strategy of BUM Desa in realizing an Independent Village. The type of research used is descriptive qualitative, using a case study approach (case study). The focus of the research is the management of BUM Desa. Data obtained through primary and secondary data sources. Data collection techniques through interviews, observations, questionnaires and literature.
Chapters
MANAGEMENT OF VILLAGE OWNED ENTERPRISES

DESCRIBING LEARNING LOSS ON COVID-19 ERA: BIBLIOMETRICS ANALYSIS OF THE TERM "LEARNING LOSS ON COVID-19 PANDEMIC

APPLICATION OF TEXTBOOKS IN THE COVID-19 PANDEMIC PERIOD AT BINA MANDIRI UNIVERSITY GORONTALO

CAPACITY BUILDING FOR NURSES IN HEALTH SERVICES AT HOSPITALS

PRINCIPAL LEADERSHIP MANAGEMENT IN THE NEW NORMAL ERA

THE URGENCY OF ACHIEVEMENT MOTIVATION IN LEARNING IN THE COVI-19 ERA

MANAGEMENT STRATEGIC OF COUNTERING ANARCHIST DEMONSTRATIONS IN MAKASSAR CITY

FOOD INSECURITY ALLEVIATION STRATEGIES BY THE POOR IN TRIMURTI VILLAGE, BANTUL REGENCY

PERFORMANCE EVALUATION OF KINDERGARTEN TEACHERS THROUGH THE GUIDANCE OF BOOST SCHOOL SUPERVISORS IN BONGOMEME DISTRICT, GORONTALO REGENCY

ELEMENTARY SCHOOL TEACHER CREATIVITY IN IMPLEMENTING ONLINE LEARNING IN THE ERA OF THE COVID-19 PANDEMIC

PROBLEMATICS OF ONLINE LEARNING IN MI CHILDREN IN KECAMATAN HAUR GADING, HSU DISTRICT

OBJECTIVE CONDITIONS OF MEDIA AND LEARNING FACILITIES IMPLEMENTATION OF ONLINE LEARNING (FROM HOME) IN EARLY CHILDHOOD DURING THE TIME OF COVID 19

SCIENCE, TECHNOLOGY, ENGINEERING AND MATHEMATIC (STEM) APPROACHES IN SCIENCE LEARNING IN ELEMENTARY SCHOOL

VIDEO ANALYSIS OF DIALECTIC OF ENLIGHTENMENT AS A SYMBOL OF WOMEN'S UNCONSCIOUSNESS IN A PANDEMIC ANALISIS VIDEO DIALECTIC OF ENLIGHTENMENT

A MODEL FOR BAHASA GORONTALO PRESERVATION TO EARLY CHILDHOOD

THE EFFECT OF ECONOMIC CONDITIONS AND PARENTS' MOTIVATION ON MATHEMATICS LEARNING OUTCOMES OF V AND VI CLASS STUDENTS AT SDN 04 BIAU, BUOL REGENCY

EARLY CHILDHOOD TUTORING PRACTICES (BIMBEL) IN PANDEMIC ERA: STUDY CASE OF "MENARA ILMU" TUTORING INSTITUTION

POSITIVE THINKING WITH LEARNING LOSS: OBSTACLE BECOME OPPORTUNITIES

OPTIMIZATION RELATED TO LEARNING TO REDUCE LEARNING LOSS DURING PPKM

THE IMPACT OF USING GADGET ON STUDENTS' LEARNING PATTERNS IN THE ERA OF COVID-19 PANDEMIC

THE INFLUENCE OF CHILDREN'S PARENTING PATTERNS AND CONFIDENCE ON STUDENTS' MATHEMATICS LEARNING OUTCOMES AT SIGI DISTRICT SD IN THE PANDEMIC COVID-19

PHENOMENON OF LEARNING IN COURSES AND TRAINING INSTITUTIONS (THE DESCRIPTION OF OBJECTIVE LEARNING CONDITIONS IN THE COVID 19 PANDEMIC ERA)

THE ROLE OF EDUCATORS IN DEVELOPING CONFIDENCE IN CHILDREN AGED 5-6 YEARS AT ILOHELUMA KINDERGARTEN, KABILA DISTRICT

BLENDED LEARNING INNOVATION IN ENTREPRENEURSHIP COURSE WITH GEPPRAK METHOD TO IMPROVE ENTREPRENEURSHIP ABILITY OF UNISKA KEDIRI STUDENTS

EVALUATION OF CHILD-FRIENDLY SCHOOL PROGRAMS AT SDN 2 TABONGO, GORONTALO REGENCY

EDUCATION THE IMPORTANCE OF HUSBAND SUPPORT IN EARLY INITIATION OF BREASTFEEDING IN MATERIAL MOTHERS

THE USE OF MAGIC CARD MEDIA IN IMPROVING THE ABILITY TO WRITE UPGRADE CONTINUOUS LETTERS IN CLASS II STUDENTS AT SDN 12 BONGOMEME GORONTALO DISTRICT

WRITE NOUN IN GORONTALO LANGUAGE THROUGH CONSEPT SENTENCE MODEL IN ELEMENTARY SCHOOL

LEARNING LOSS DUE TO SCHOOL AND UNIVERSITY CLOSURES DURING THE COVID-19 PANDEMIC: FROM DISRUPTION TO RECOVERY

ANALISIS PERPINDAHAN PANAS TERHADAP PERUBAHAN MATERIAL TUBE DARI TEMBAGA MENJADI STAINLESS STEEL PADA HEAT EXCHANGER KAPASITAS 174,2 kW UNTUK SISTEM PENDINGIN GENERATOR DI PLTA JATILUHUR

DEVELOPMENT OF BIOLOGIC ELECTRONIC MODULE AS A STUDENT'S SELF-LEARNING SOURCE SENIOR HIGH SCHOOL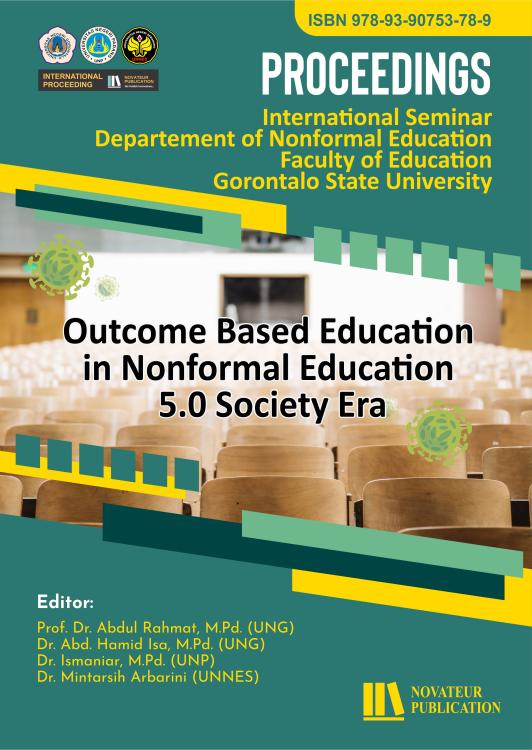 Downloads
Categories
Copyright (c) 2021 Andi Abdul Malik, Hamsu Abdul Gani, Rifdan Rifdan, Elihami Elihami, Imam Mashudi, Asna Aneta, Abd. Haris PanaI, Novrianty Djafri, Suprapto Suprapto
License
This work is licensed under a Creative Commons Attribution-NonCommercial-NoDerivatives 4.0 International License.